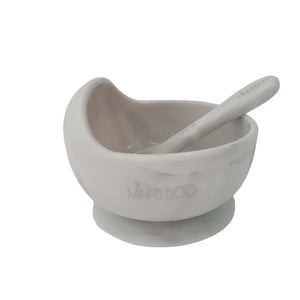 SPOON NOT INCLUDED.
Make the transition to solids as smooth as possible with our silicone bowls.
This beautiful silicone bowl set is perfect for bambino's first bowl.
A non slip suction base that actually sticks!
Completely BPA, 

Lead and Phthalate free = No Nasties

Dishwasher and Microwave safe, EVEN the spoon - (thank goodness!)
100% Food Grade Silicone FDA Approved
Can withhold high temperatures (perfect for sterilizing in boiling water)
OVEN Safe - Hello apple crumble
The suction bowls work the best on smooth, non-porous surfaces such as plastic, tile, glass or metal. Surfaces that are textured, slightly curved or porous make it difficult for the silicone to have a high, long lasting stick.
To ensure a strong suction please make sure the surface is clean with no soap film before sticking on bowl.
SPOON NOT INCLUDED.